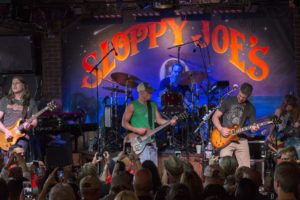 March 15, 2008
Kenny Chesney's "Spring Break Keg Tour" he performed a four hours and twenty minutes show. Kenny said this is the longest he's ever performed in his career and stopped when the band literally didn't know any more songs. Uncle Kracker joined Kenny on stage for a few songs.
March 14, 2009
Chesney followed up with another unannounced show taking the stage for 2 hours and 30 minutes. Kenny was joined by Mac McAnally along with friends Payton Manning, New Orleans Saints Coach Sean Peyton and NASCAR driver Dale Earnhardt Jr.
March 21, 2016
Chesney's third performance "Kenny in The Keys" show was in 2016, performing three hours and fifteen minutes. Eric Church and Old Dominion's Matthew Ramsey joined Kenny on stage.