Sloppy Joe's 43rd Annual Hemingway® Look-Alike Contest
July 19-21, 2024
2024 entry form will be posted later in the year
Look-Alike Contest Guidelines:
Pre-register by mail DEADLINE IS JULY 15, 2024 The contest is limited to 80 contestants each night. Print out entry form, complete information, sign front and back of form, mail it along with the indicated fees. Please indicate whether you will compete in the Thursday or Friday preliminary round. Contestants may only sign up for one night. If a contestant has competed in Thursday night round and does not advance to final round, they may not sign up for Friday. Confirmation will be emailed to contestants. If entry forms arrive and contest is already full, contestant will be notified.
Each preliminary round of the Sloppy Joe's Hemingway® Look-Alike Contest will begin at 6:30 pm, and finals 6:30 pm in Sloppy Joe's Bar (201 Duval Street) on three consecutive evenings, July 19-20, 2024

Contestants scheduled Thursday night/round one, check in at the registration table near the stage at 5:00 pm. Look-Alike contestants will be given an assigned number, and Hemingway® Look-Alike event t-shirt.
Contestants scheduled Friday night/round two, check in at the registration table near the stage at 5:00 pm. Look-Alike contestants will be given an assigned number, and Hemingway® Look-Alike event t-shirt.
If not pre-registered, you may sign up prior to either preliminary round at Sloppy Joe's if space is available.
Although the contest doesn't begin until 6:30 pm, Thursday, Friday and Saturday, spectators and some contestants arrive early in the afternoon. Remember that this is summer in Key West. The temperature on stage under the lights can get pretty hot, there will be hundreds of folks in and around the bar, there's no reserved seating, and television crews will be jostling for the best camera angle. Basically its chaos, so please be patient.
Contestants will be given a number when checking in at registration table. Contestants will line up by number.
Contestants will be called on stage in groups of eight, in order of assigned number, and introduced to the audience. Contestants will have 15 seconds to speak to the judges and audience. If wearing a hat, contestant will be asked to remove hat so that judges will be able to see their face. We are looking for mature, heavy-set men with a full beard. However, several young Look-Alikes have participated and some have actually made it to the finals. Contestants participating in contest agree allow their image to be used by Sloppy Joe's and media, and grant photo release (must sign above talent release form).
Approximately twelve finalists will be chosen on Thursday, and twelve on Friday to advance to the final round on Saturday. Finalists will be announced each night and contestants will be asked to come on stage.
On Saturday, finalists will be called up on stage in groups of five and given one minute to present themselves to the judges.
The group will be narrowed down to five finalists. The five finalists will be called back to stage and have two minutes to speak. Papa 2024 will be named from this group.
Papa 2024 will become a Judge for future contests and no longer able to compete in future contests.
Judging is handled by former Look-Alike winners who we call Papa.
Know your competition. The Look-Alikes arrive in 'Hemingway Garb.' Some even wear safari outfits, khakis, and even the excruciating hot wool fisherman turtle neck sweater. Many entrants have been competing for years. Some bring their own cheering squad. Most contestants admit (confidentially) that they may never win, but return year after year for the fellowship. Contestants need to plan their own clothing.
The judges are looking for someone who: Looks like Ernest Hemingway; someone who will return each year to judge the contest; and someone who will work on scholarship program. Looking for an individual with good moral character to represent the Hemingway Look-Alike Society.
Faithfully, the wives, known as the 'Mama's' spend their time and vacations promoting their Papas, and return to Key West each July for the event.
The Hemingway Look-Alike society (HLAS) is very dedicated to the Hemingway Look-Alike scholarship program. The HLAS is the biggest contributor to the Community Foundation of the Florida keys.
Note: Please do not bring any type of balloons they will not be allowed in bar. No dogs, animals or birds will be allowed in the bar. Contestants may not bring other people on stage.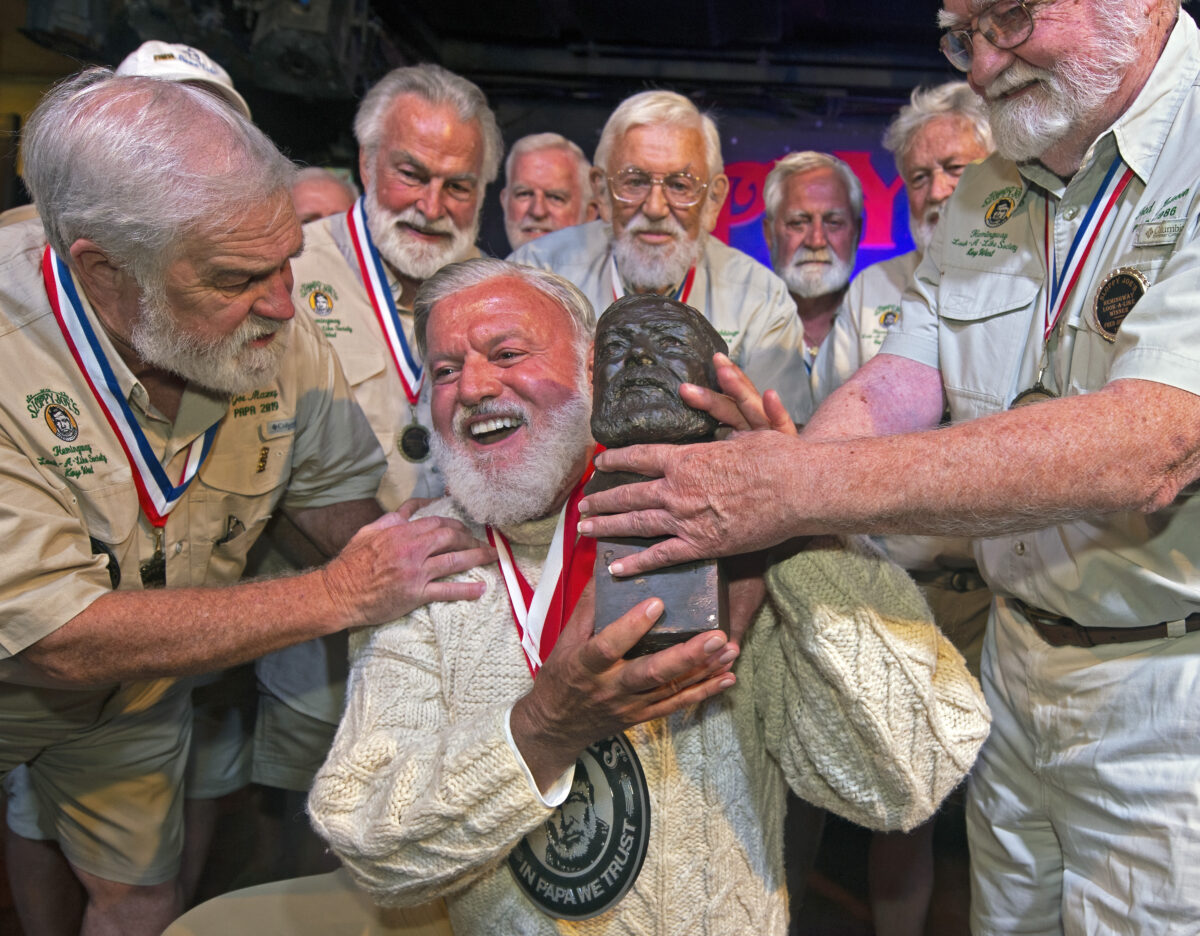 Jon Auvil, center, receives an Ernest Hemingway bust and congratulations after he won the 2022 Hemingway Look-Alike Contest Saturday, July 23, 2022, at Sloppy Joe's Bar in Key West, Fla. Left of Auvil is Joe Maxey, the 2019 winner, and at right is Fred Johnson, who won in 1986. Auvil, who finally won on his eighth attempt, beat 124 other entrants in the contest that was the highlight event of Key West's annual Hemingway Days festival that ends Sunday, July 24. Hemingway lived and wrote in Key West during most of the 1930s. FOR EDITORIAL USE ONLY (Andy Newman/Florida Keys News Bureau/HO)