December 2014
NEW YEARS EVE — Sloppy Joe's 22nd Annual Dropping of the Conch Shell
Sloppy Joe's will host its 22nd Annual Dropping of the Conch Shell. Any thing goes New Year's Eve in Key West on Duval Street. You'll find people all decked out for the midnight celebration, and folks still in their bathing suits and flip flops when the Conch Shell drops from the roof of Sloppy Joe's Bar.
The idea and implementation of the New Year's Eve Dropping of the Conch Shell is that of local artist Tobias McGregor. In 1993, McGregor approach Sloppy Joe's management about the New Year's Eve plan. "Before the dropping of the Conch Shell, everyone would just wonder around Duval Street, celebrating the New Year when their watches read midnight. The crowd was just not in sync," said McGregor.
The initial Conch Shell was rigged on a frame, the shell was lowered manually, and timed by watch, or by looking across the street into a window and watching the countdown in Times Square on someone's TV. McGregor said, "the Queen Conch has come a long way since the early years, and the crowd at the corner of Duval and Greene expects more each year."
Outside the crowd starts to gather on the street around 10:00pm as Sloppy Joe's rooftop host entertains the crowd and everyone dances, catches beads and waits for the countdown clock to begin. As midnight strikes and the Conch Shell is lowered confetti, streamers and lights will fill the sky.
Inside on stage New Year's Eve: Brian Roberts Noon-4:45pm; The Pete and Wayne Show 5:30pm-9:30pm; and Cherry on Top takes the stage at 10:00pm. Balloon drop and party favors at midnight.
No reservations taken. No tickets sold. Door charge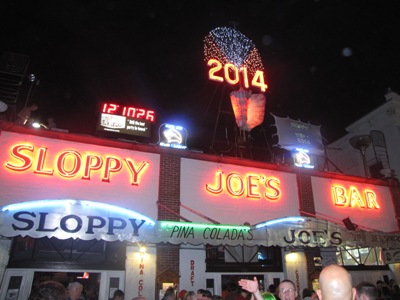 February 2015
Sloppy Joe's 11th Annual Put-In-Bay Music Festival – February 12, 13, 14, 2015.

Sloppy Joe's Bar will bring a bit of Lake Erie's summer and place it smack dab in the middle of Key West from February 12th – February 14th to celebrate one island's uniqueness to the other. Featured performers include: Bob Gatewood, Ray Fogg, Pete & Wayne, Mad Dog Adams and Pat Dailey.
PAT DAILEY
Pat Dailey returns from Put-In-Bay, OH on stage Thursday-Saturday nights at 7:00 pm.
February 5, 2015  through March 7, 2015.
No tickets sold.  No reservations taken.  No Door Charge.
March 2015
Welcome Spring Breakers!
May 2015
SLOPPY JOE S CELEBRATES 78 YEARS AT THE CORNER OF DUVAL AND GREENE
Sloppy Joe s Bar is a historic Key West landmark that has been in its current location since May 5, 1937.
Sloppy Joe s has been owned by the Snelgrove and Mayer families since September, 1978.
The building the main bar resides in was built in 1917, and its adjacent building that houses its kitchen and Joe s Tap Room was built it 1892. The two buildings together will be over 220 years old.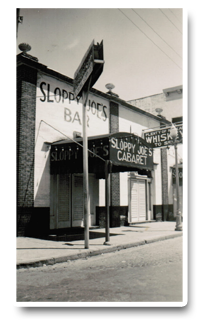 July 2015
Sloppy Joe's 35th Annual Hemingway Look-Alike Contest July 23-25, 2015.