Joe's Tap Room
Welcome to Joe's Tap Room located at Sloppy Joe's Bar, corner of Greene and Duval.
Joe's Tap Room features a variety of cold crafted beers on tap. Joe's Tap Room also offers a full bar with premium well and a variety of domestic and import bottled beers. Food may be ordered from Sloppy Joe's regular menu. Customers can easily move from Joe's Tap Room to the main bar and enjoy the Sloppy Joe's experience.
Joe's Tap Room is a great place to catch your favorite games on HD Big Screen Satellite TV. Joe's Tap Room has Direct TV NFL Sunday Ticket, ESPN Game Plan, NBA League Pass, ESPN Full Court, March Madness, NHL Center Ice and MLB Extra Innings packages.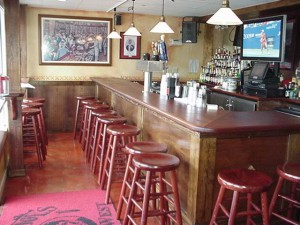 Enjoy a cold beer from our crafted beer list:
Rogue Dead Guy Ale (Newport, OR) – This ale is a German Maibock style, using Rogue's proprietary Pacman ale yeast. Deep honey in color with a malty aroma and a rich hearty flavor. ABV approximately 6.4%.
Shiner Bock (Shiner, TX) – Brewed with rich roasted Barley malt, and German specialty hops. This lightly hopped American-style dark lager always goes down easy. ABV 4.4%.
Abita Amber (Abita Springs, LA) – Abita Amber is a Munich style lager brewed with crystal malt and Perle hops. It has a smooth, malty, slightly caramel flavor and a rich amber color. ABV 4.5%.
Bell's Oberon (Kalamazoo, MI) – An American wheat ale brewed with Saaz hops. Spicy and fruity, Oberon is the color and scent of a sunny afternoon. ABV 5.85%.
Angry Orchard Crisp Apple (Cincinnati, OH) – Boston Beer Company. Crisp and refreshing cider offers sweet apple notes upfront with a subtle dryness at the finish for a balanced cider taste. The addition of Fuji apples adds a layer of complexity and brings out a fresh apple aroma and slightly sweet, ripe apple flavor. ABV 5%.
Innis & Gunn Original (Edinburgh, Scotland) – A pioneering beer, notes of biscuit malt and vanilla swirling within a creamy mellow character. ABV 6.6%.
Florida Avenue Ale (Tampa, FL) – Florida Avenue Ale is an American wheat ale. The ale fermentation imparts a background tropical note reminiscent of tropical fruit. All of these flavors come together to create a crisp, thirst quenching, clean finishing beer perfect for Florida's unique climate. ABV 4.7%.
Cigar City Maduro (Tampa, FL) – Northern English-style brown ale with some American affectations. Maduro features flaked oats in the malt bill which imparts a silky body and works to mesh the roasted, toasted and chocolate components together in Maduro's complex malt profile. ABV 5.5%.
Funky Buddha Hop Gun IPA (Oakland Park, FL)' – Hop Gun IPA drinks like an ode to hoppy goodness. Galena, Cascade, and Nelson Sauvin hops burst forth with intense flavors of melon, grapefruit, and pineapple, while the body balances malt character with a pronounced dry finish. ABV 7.2%.
Southern Tier 2xipa Double India Pale Ale (Lakewood, NY) – Not quite an imperial, but certainly not a standard India pale ale. Southern Tier double IPA is a hop lover's dream. Citrusy and clean with an incredible finish. ABV 8.2%.
Crafted Beer List is subject to change.
ABV information taken from brewer's web site information.
Joe's Tap Room is available for small private parties (maximum 24 people). For more information call (305) 296-2388, Ext. 121.