May 2020
May 5, 2020 Sloppy Joe's celebrates 83 years at the corner of Duval and Greene.
December 31, 2020
NEW YEAR'S EVE — Sloppy Joe's 28th Dropping of the Conch Shell
Sloppy Joe's will host its 28th Dropping of the Conch Shell. Any thing goes New Year's Eve in Key West on Duval Street. You'll find people all decked out for the midnight celebration, and folks still in their bathing suits and flip flops when the Conch Shell drops from the roof of Sloppy Joe's Bar.
The idea and implementation of the New Year's Eve Dropping of the Conch Shell is that of local artist Tobias McGregor. In 1993, McGregor approached Sloppy Joe's management about the New Year's Eve plan. "Before the dropping of the Conch Shell, everyone would just wander around Duval Street, celebrating the New Year when their watches read midnight. The crowd was just not in sync," said McGregor.
The initial Conch Shell was rigged on a frame, the shell was lowered manually, and timed by watch, or by looking across the street into a window and watching the countdown in Times Square on someone's TV. McGregor said, "the Queen Conch has come a long way since the early years, and the crowd at the corner of Duval and Greene expects more each year."
Outside the crowd starts to gather on Duval Street around 10:00pm as Sloppy Joe's rooftop co-host Sanaris and Mark entertain the crowd. Everyone will be dancing and catching beads as they wait for the countdown clock to begin. At the stroke of midnight the Conch Shell will drop, confetti, streamers and lights will fill the sky.
No reservations taken. No tickets sold.
Be a part of Sloppy Joe's New Year's Eve
Do you have a New Year's wish? Do you want to spread good will or share a positive message for 2021? Or do you need to leave something sad or negative behind and let it be blown away to be forgotten?
Send us your wish and it will be added to our confetti cannon and blasted into the street at the corner of Duval and Greene in Key West when the clock strikes midnight to ring in 2021.
Every year visitors from around the world share New Year's Eve with us, some in spirit and some via our live streaming web cam.
We hope you'll be a part of our New Year's Eve celebration too!
Email your wish to [email protected]
Keep your wish to 140 characters or less, including your name and hometown.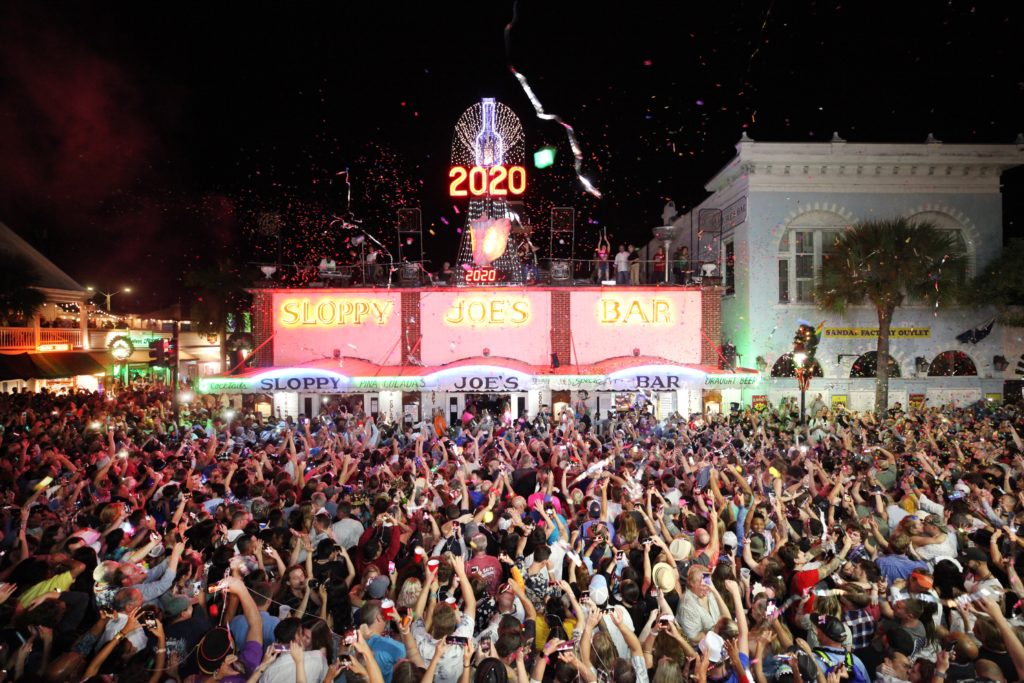 Photo: Carol Tedesco
February 2021
SLOPPY JOE'S ANNOUNCEMENT – CANCELLED:
Sloppy Joe's annual Put-In-Bay Music Festival will not be scheduled for 2021.
July 2021
Rescheduled … Sloppy Joe's 40th Hemingway® Look-Alike Contest July 22-24, 2021.