Sloppy Joe's would love to hear your favorite "Sloppy Joe's Story!"
March 2019 — Recently I visited and ate at Sloppy Joe's on Duval Street. While I was in their gift shop I set down a bag with merchandise I purchased that day from another shop and unknowingly left it.When I got back to Key Largo late that evening I realized it was missing. After several phone calls to different stores including Sloppy Joe's, Mark the manager called me to say it was found. I was leaving to head back home to Pennsylvania the next day and had no way to pick it up. I asked if it could be shipped to me and of course I would pay shipping- Mark was so kind to say he would ship it out with no charge to me. Thank you Mark for your kindness ! There are good people in this world!! Cindy D
January 2019 – We visited Key West and entered your establishment. I am a tea- teetotaler well until I got there. We got off the Carnival ship and ended up at Sloppy Joe's. We had SOOO much fun! There was a single guy playing and singing for us. Funny, entertaining. And your rum was the best I've ever had. My husband had to guide me back to the ship. We got back to security and he told me " You're on your own". Haha. We are coming back. Not sure when but love your web cam, I'll be back often at least online to reminisce. Thank you for the great time. Cindy And Tim
We're looking for one photo and a brief description of your experience with us. Photo should be a JPG file and copy should be one paragraph long. Send your stories to webstories@sloppyjoes.com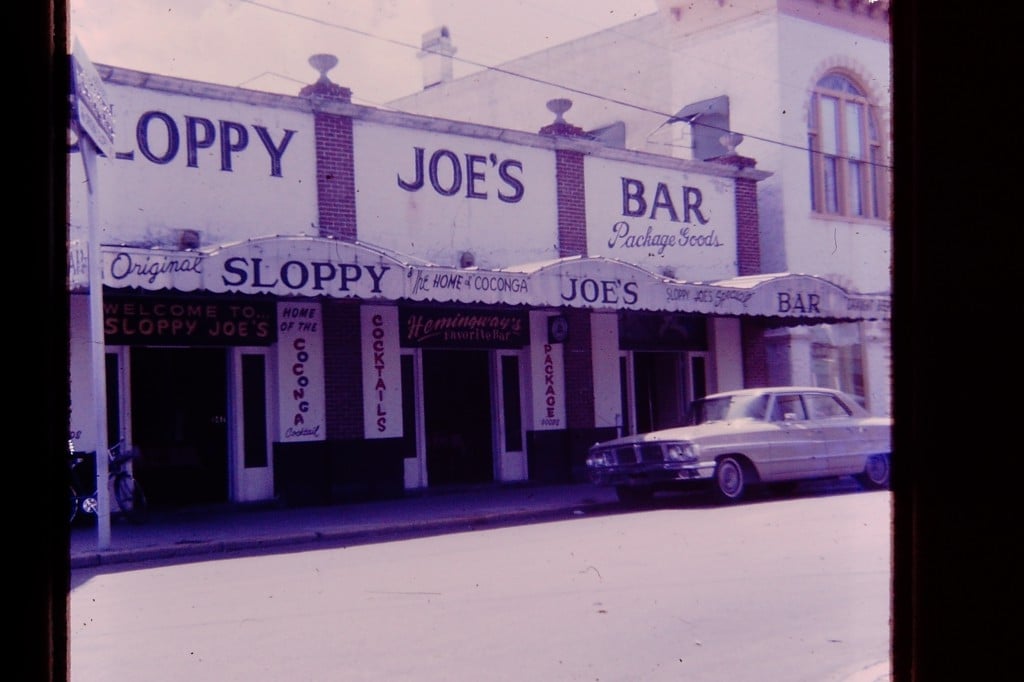 A Pete and Wayne Moment In Time "THE SMILE BENEATH THE BANDANA"
When one plays music in the bars of Key West, Florida, you are at the mercy of anyone who walks through the door. If you are onstage with an instrument in any bar for that matter, you are critiqued, inspected, loved, hated, ridiculed, praised, bemoaned, evaluated, inspected, and rejected. But at Sloppy Joe's it's magnified and amplified by ten. At Sloppy Joe's most people don't know you OR your talent (or lack there of), so when you take that stage you have to win them over or suffer.
Guess it's because Sloppy's is a world tourist destination that has a reputation as being a rowdy, rambunctious, seaside bar room, so people expect the musicians to accommodate that perception. Over the years we have had the stage bum rushed, we've been yelled at, punched, spat at, had beer bottles and shoes thrown at us (also bra's and panties, but we don't mind those) and we even had a guy pull out a knife while we were playing (thanks big Joe for saving us on that one).
But it's not all bad, over the years we get the folks who know what we do, that keep coming back day after day, year after year, to hear us, request our songs, sing along,….some bring their parents, others bring their kids, some bring their dogs, and some just stand out over and above all the others.
For instance: It was a typical Key West afternoon/evening gig, Wayne and I had just set up and started our show, and in walked three rather portly women in very bright flowery dresses who sat at the table right in front of the stage. One was older with a hat on, while the other two were a bit younger, but all were sweaty and burdened with bundles of bags from their Duval street shopping spree. They noisily scrapped chairs across the floor, plopped bags on the floor and sighed into their chairs and started fanning themselves with the Sloppy menu's.
It's funny when we play, we tend to judge who is coming in and sitting down to watch us…guess we are a bit paranoid of the negative responders, so when someone sits down right in front, like that, we judge and often times worry.
My take on these ladies was "Oh Shit", these three won't last long! So as we plowed through our show, they chatted to themselves ignoring us at first, but after a while I noticed they were suddenly paying attention. Something had caught their ears and now they were laughing at our jokes and lyrics, ordering more drinks, and basically were just having a blast! I was completely wrong about these women, the old book by the cover syndrome, as a matter of fact they stayed for two sets! They were gone by the time we got back from our second break, but they had proven me wrong.
Next afternoon, though, I was setting up the stage for another show, when a van pulled up into the loading zone at the side entrances of Sloppy Joe's. The two younger ladies got out and slid the van door open to reveal the older lady in the back, gone was her hat, and in it's place a bandana wrapped her bald head. The two younger girls came over to me while the older lady waited in the van. They wanted to purchase all 6 of our CD's and as I gathered the recordings together, they told me that they were sister's and the older woman was their Mom and they were heading back home.
Sadly seems Mom had been diagnosed a month earlier with stage 4 inoperable cancer, and there was no hope, so this was their last vacation with all 3 of them together, as their Mom wouldn't be able to hold up for another. They also told me their Mom hasn't laughed like that in years until they came into Sloppy's and started watching us the day before. They were purchasing the CD's to play in the van on their ride back to South Carolina, so they could continue that laughter. Seems we had made their vacation, watching their Mom laugh full belly laughs like that, and more importantly helped them deal with their impending sense of loss.
I bagged up the CD's and gave them to them, told them to keep their money, for they had just given us the biggest tip we could ever get! A couple of quick hugs and off they went to their van to hit the road. I looked over at their Mom waiting in the back of the van, and there she was, bandana and all, waving at me with a big old smile a mile long.
So when I get small minded people who feel entitled to yell "you sucks" and various other obscenities, those people that feel that giving us the finger is justification for them being a customer. ….All those shoe throwing, knife wielding, drunken idiots who probably don't even listen to us anyway, they no longer matter… all I got a do is remember that beautiful smile beneath the bandana!
Sloppy Joe's September 1966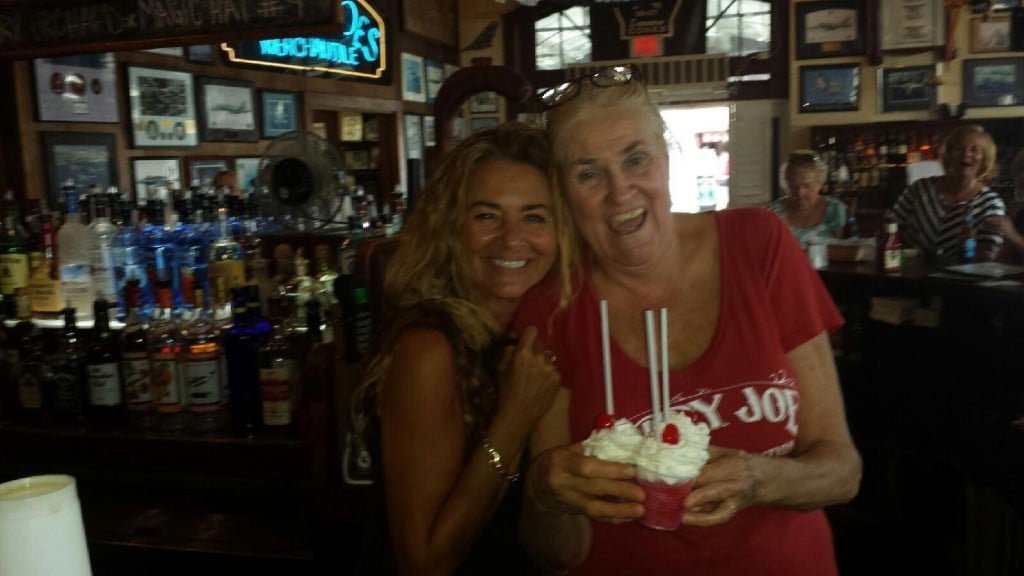 I was in Key West with my friends(5 of us) 9-25 thru 10-4. This was about my 12th visit in about the last 20 years, I always get into Sloppy Joe's for a few but this trip I couldn't stay away thanks to Bonnie & Julie.I was in about every day! They made this trip exceptionally fun. Oct 1 was my friends Tom & Tim's birthday (twins) where better to spend the day than Sloppy Joe's. When Bonnie & Julie found out the fun stepped up even more including strawberry short cakes for the b-day boys! Tell them we miss them & Happy Holidays! To the Ownership & management I cant tell you enough what a great staff you have put together they are like family to one another just watching the interact is great. A couple times a week I check the bar cam and laugh like hell when I see Bonnie ringing the hell out of that tip bell. Please tell Lou & Jenny HEY! THANK YOU & HAPPY HOLIDAYS Matt Freeport, IL
THANK YOU SYLVIA!
Thank you to Sylvia and the rest of the Sloppy Joe's staff for a great 5 days. We came to Key West to celebrate our ten year anniversary and, as usual, had a great time at Sloppy Joes. The service is always great, and we always have fun. It's our home away from home, and we come as often as we can. See you soon! Steve and Stacie
| | |
| --- | --- |
| | I don't always leave the Swamp, but when I do, I head to Sloppy Joe's |
NORTHERNMOST CITY

Kurt / Barrows, Alaska
| | |
| --- | --- |
| | COLORADO FANS |
SLOPPY JOE'S THE SNOW MAN

My wife and I are long time (15 years annually) visitors/fans of Key West and Sloppy Joe's. We're always looking forward to our next visit. Our cold and snowy winters enhance our thoughts of'the warm weather and fun times we've enjoyed there. George and Linda Paoli, PA
Just wanted to send you a photo of one of your favorite customers.

You always treated her so special when we came in to visit from Maryland. She passed away from non hodgkins lymphoma after 6 months of chemo in May this year. I had promised to send you a photo many times, so here it is. 'thank you for the many French fries you gave her. She enjoyed the people, music and food.

Thank you again, June and Jerry, Also Zoe in heaven
| | |
| --- | --- |
| | Our dog Evelyn enjoying key west |
| | |
| --- | --- |
| | Daniel's car in front of Sloppy Joe's. |
Lou Remember us?! How could you forget!?!

We had a great trip to the US and without doubt, Key West, and Sloppy Joe's was the best part!

Cheers, Paul & Sharon from Bonnie Scotland
| | |
| --- | --- |
| | Hello I'm Krixus wearing my new Sloppy Joe's party animal t-shirt. |
| | |
| --- | --- |
| | Party Animal September. |
| | |
| --- | --- |
| | New t-shirts for Peanut and Sugar |
HI DAVE!

We were there last week and had a great time, our bartender Dave was the best! Thank you again for an amazing time. Jennifer and Jared
HELLO FROM DENMARK!

Thank you for smile Jess, and we had a great time in Key West and at Sloppy Joe's.With the best regards, Asger